CONTENT CURATION
Go beyond the LMS. Import, index and deliver all types of content alongside your traditional learning
INSTANT AUTHORING
Simple to use, fully responsive, device agnostic authoring
CUSTOMISABLE PREBUILT CONTENT
Get off the ground quickly with a rich easily customisable content library ranging from health and safety to leadership training
.
NEXT GENERATION LEARNING PLATFORM
Learning is not the product of teaching.
Learning is the product of the activity of learners.
In todays noisy landscape of information overload it's simply no longer effective to deliver a list of to-do's and expect a user to extract and retain knowledge that will provide value to them and improve their on the Job performance.

Obviously those to-do's still need to be accounted for but we need to provide a more diverse, bite size source of information and make that information more accessible than ever before and thus lower the barrier to discovery.
LET US SHOW YOU HOW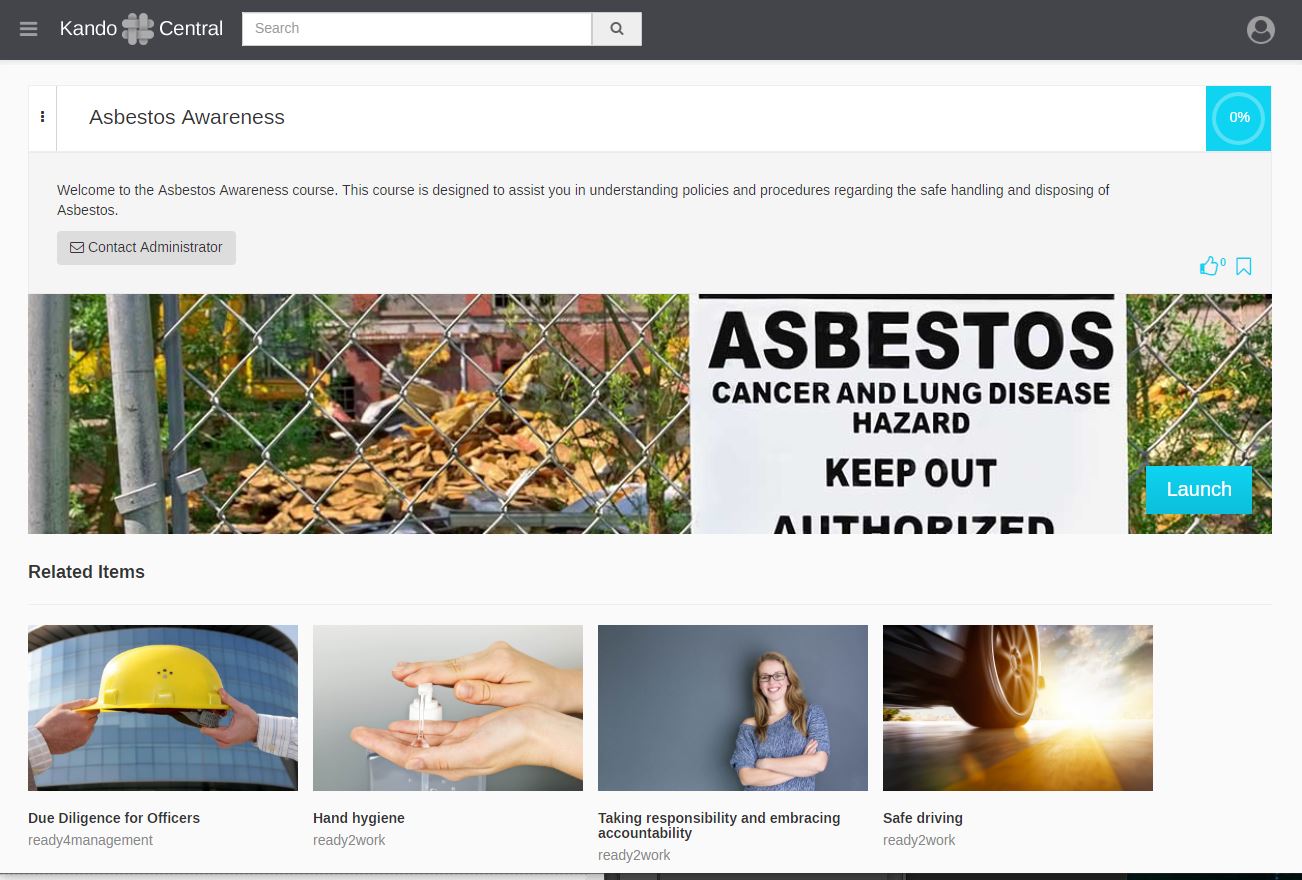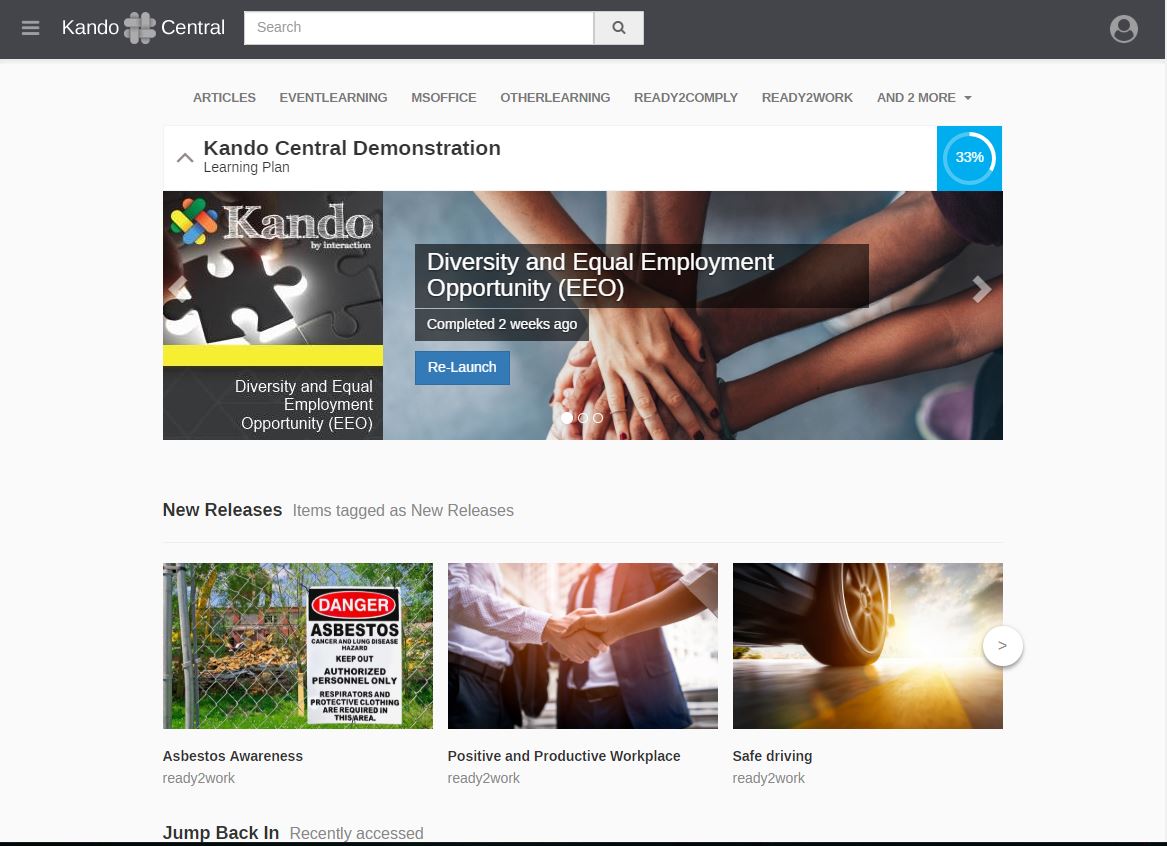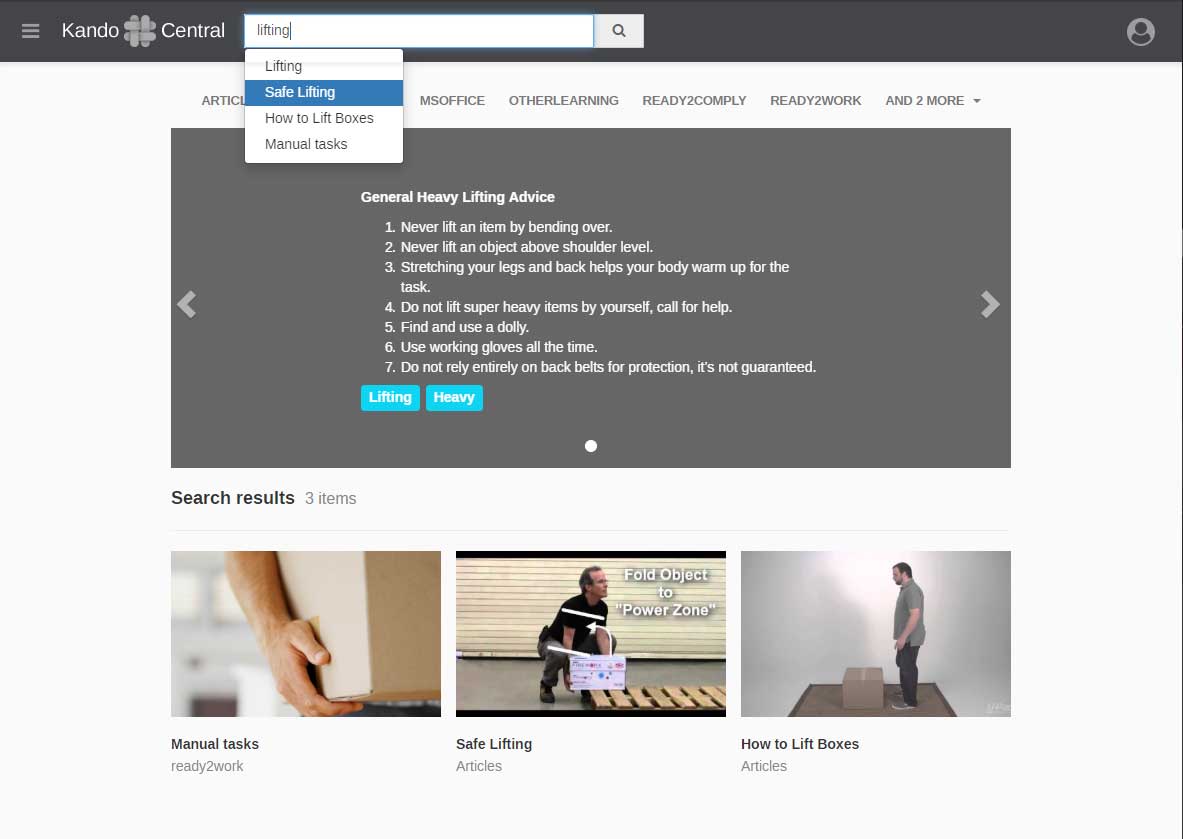 Content is KING and not just the authored stuff
While traditional elearning is still a powerful tool, i't's often too much, too costly and too cumbersome to be the right source of information at the right time all of the time. How often do we know there's info our users need but not enough time or money in the budget to develop it as "elearning"
With Central we can deliver the information instantly online as a first class citizen right from the source. Video, Articles, Pages on your intranet, News sites, Quizzes, ELearning, Face to face booking all from one simple to use familiar interface.
ENHANCED ELEARNING
Kando central not only supports any industry standard elearning package but can also enhance them with insights, equivelance and adaptive paths so you don't have to force users to complete lengthy packages to prove understanding/compliance.

Content tagging means related content of any type can sit right on the same screen as your elearning as related items.
ARTICLES
Paste in a link to any site and Kando Central will automatically extract relevant information such as cover images, titles and descriptions and embed that content in the optimal format so you can deliver, index and track it like any other learning item.

You can also include quizzes, insights and all the simple to use enhancements Kando Central can apply to any content.
FORMS
User or trainer driven custom forms with all the normal fields and file upload options. Great for tracking on the job training or anything that happens offline.


Form results can be reviewed and workflows attached for managers to approve the form submissions and commit the completion to the users achievements.
VERSIONED DOCUMENTS
Sometimes it doesn't make sense to turn a dry flat document into fancy elearning in the name of engagement. A simple document can be equally as engaging and faster to consume. So we've included a full document editor with version control, history and the ability to add simple customisable confirmation buttons (to indicate/comfirm understanding).
INSIGHTS
Short sharp bite size pieces of information that can be attached to any content and indexed for easy discovery. Ideal when you just want to know how to do a task or what something means without the time investment of browsing a full course, document or video.

For example if you search for the term "lifting" you are then presented with the 7 steps to lift a heavy object accompanied with related videos and elearning.
QUIZZES
Quickly build standalone quizzes that can be attached to any content to prove or guage understanding.


Quizzes can also be set to override completion of the attached content so you can give your users a truly adaptive path
More than just a platform
What else can we do for you
Interaction Training boasts well over 20 years in the elearning industry and everything we provide is built in house here in Australia. We are a development company first who love to build cool stuff. We are here to support your needs all the way from implementation to customisation.
INTEGRATION
Seamless HR integration. You name it we've integrated it.
SINGLE SIGN ON
We can provide single sign on to any identity management system
CUSTOM CONTENT
Our content team is available to support and gap fill when you need help on your content projects.
CUSTOM REGISTRATION
Self enrolment for external users. We've got you covered
SYSTEM CUSTOMISATION
If you have requirements outside of the norm we build everything in house here in Australia so everything can be customised.
CONTENT TESTING
3rd Party content not tracking as you expect. Let our experts take a look.
New off the shelf courses
We're constantly expanding our off the shelf library to give you a ready to go customisable starting point for any topic
Asbestos Awareness
This course is designed to assist you in understanding policies and procedures regarding the safe handling and disposing of Asbestos.
Positive and Productive Workplace
In this course, we focus on the fundamental and legal right to work in an environment that is free of unlawful bullying and harassment.
Safe driving
The goal of this course is to encourage those who work with vehicles to consider work health and safety practices in their workplace and to put into place measures to help ensure they arrive home safely every day.
Latest from the developers blog
Want a quick overview straight from the horses mouth or more detail on specific functionality or just see the new stuff we're working on in the innovation factory…
Contact us
Contact us now to learn more or get a one to one demonstration